Locals advice to eating, sleeping, drinking and doing in Reykjavik and Iceland
I often get asked for suggestions on things to do when in Iceland, places to eat and drink when in Reykjavik. Usually by old friends or colleagues that are about to visit my homeland so I meet them in person and provide them with a personalised list of greatest hits. Sometimes they are asking for a friend so I just provide a "best of Iceland" list that ticks most boxes.
This should give anyone visiting Iceland a decent idea of things to do. I'll throw in a few tips and tricks in the end.
This blog post was actually inspiration and prototype for my local advice startup
Eating
Finding bad food in Reykjavík is hard, but finding overpriced mediocre tourist traps is easy. I would stay away from the main streets as much as possible.
Þrír frakkar is one of my favourite places to go with tourists. They serve really good local food at very decent prices. Here you'll find whale sashimi, whale steak, smoked puffin, horse filet and the classic fish stew along with several fish and lamb dishes. Downtown but a bit out of the beaten path so they often have a table available at short notice.
Fiskmarkaðurinn (Fish market) a place to go when you want to splurge and have a great dining experience. Great service, good wine and awesome food. I recommend going with the tasting menu. Make sure to call in advance.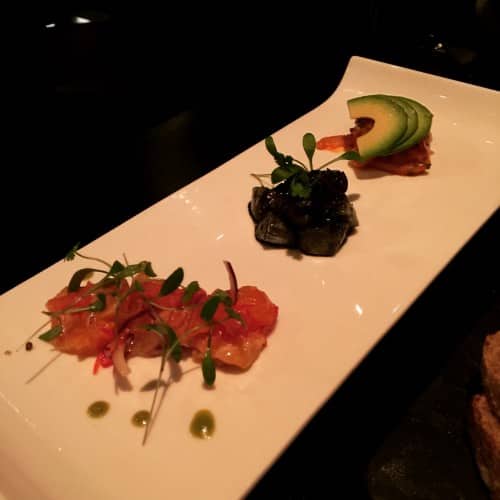 Food in Reykjavík will not disappoint
Snaps Bistro is a lively and fun place where you might find local celebrities, artists and musicians as well as ex-banksters. Great bistro style food at very good prices. The atmosphere is also brilliant so it's a great place to start if you are going out for the night. Their brunch was also voted the best in Reykjavík.
Other places worth mentioning are Matur og Drykkur, Public House, Kol,Hamborgarabúllan and Sægreifinn.
Sleeping
Most people I know find an Airbnb somewhere downtown and take day trips from there. Iceland is fairly small so unless you plan to take a few days to travel around the island it makes sense set camp in Reykjavík and rent a car or take a trip with one of the many tour providers. I personally like the personal touch of Airbnb over hotels but if you prefer being serviced these might fit the bill.
Guesthouse Sunna is a large but very nice and friendly guesthouse located across the street from Hallgrímskirkja (the big famous church). It does belong to my aunt but I've stayed there so I can confirm it's nice and clean.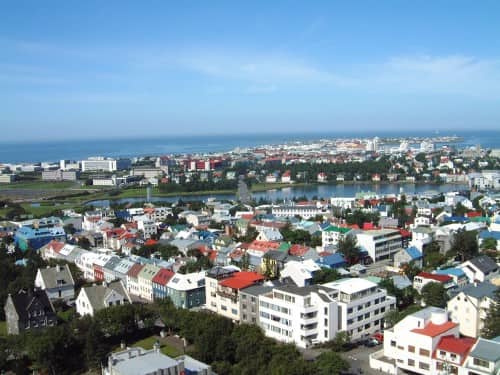 The view from Hallgrímskirkja. You can see my house, it's the one with the blue roof…
101 Hotel is a boutique design hotel with a good cocktail bar. I stayed there for my wedding night and the rooms are great. Very quiet even though it's right smack in party central.
Drinking and partying
Reykjavík is known for it's nightlife but I've met a few people that actually missed it as oddly as that sounds. Icelanders usually only party on Thursday, Friday and Saturday although you'll find a place or two that might have something going on on other nights.
On Thursdays you'll find the slightly older crowd that prefers to be hungover at work on Friday rather than on Saturday with their kids. The bars close at 1 AM so the night usually starts early but can be banging from 11 PM.
On Fridays and Saturdays the bars close late, some even as late as 5 AM and as drinks are so expensive the younger crowd starts partying at home and arrives downtown after 1 AM. So don't leave early thinking it's a slow night and nothing is going to happen because things will pick up.
Kaffibarinn is a cult classic in the Reykjavík party scene, great music and for dancing the night away. As it's "famous" you'll find a few tourists hanging there waiting to see Björk or someone from Sigurrós. This place caters for all ages and the drinks are cheap-ish.
Loftið is a cocktail bar with a booming dance floor, most patrons are over 30 and drinks are pricy. There is a dress code so no jeans and t-shirts. Sometimes a small queue will form outside but it passes relatively quickly.
Kaldi bar serves a selection of good craft beer and cocktails. Usually packed with happy people but no loud music or dancing so it's ideal when you just want good drinks and to be able to chat.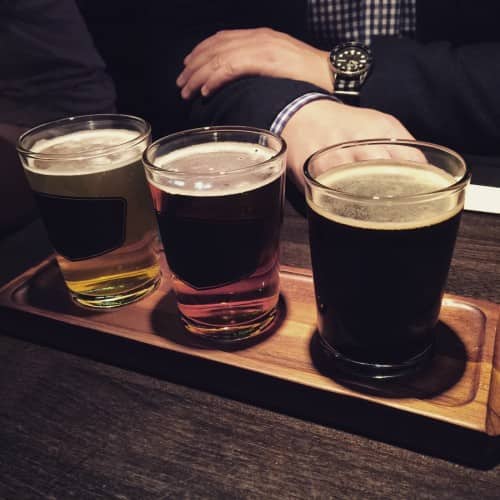 Icelandic microbrew is well worth a try
Hotel Holt is a great place to start the evening. Enjoy your pricy cocktail or fine single malt while lounging in comfy leather sofas surrounded by masterpieces from old local artists.
Doing
Most visit Iceland to enjoy the beautiful nature and you can find a selection of great tours that will take you on the golden circle to see Geysir, Gullfossand Þingvellir. Don't forget to stop by the Blue lagoon on your way to the airport. But if you have time there are a few places you can't miss…
Jökulsárlón is a must if you have ample time, it's a 5 hours drive from Reykjavík but definitely worth the trip. Essentially large blocks of a glacier drifting down the lagoon into the ocean. I've been around but never seen anything quite like it.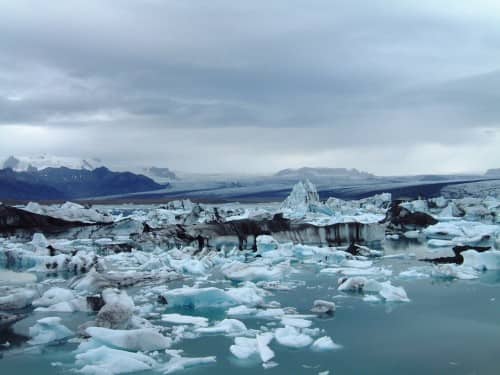 Jökulsárlón is one of Icelands most amazing natural treasures
Mývatn is on the other side of Iceland and has it's own blue lagoon. The area is full of natural wonders and Dimmuborgirby itself would be worth the drive.
Esjan is a popular mountain amongst locals to go for a hike as it's just a 20 minute drive from Reykjavík. The trail is actually fairly easy so you'll do fine with sneakers. It shouldn't take more than a hour or two to get to "the Rock" so pretty much anyone should be able to go. The view of Reykjavík from the top is great.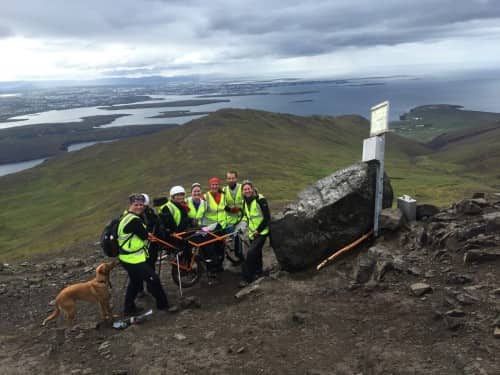 Last year we pushed a wheelchair up to the "Rock" on Esjan
Swim in the heated outdoor pools. You'll find a few of these scattered around the city and all over Iceland. The entrance fees are low, they are clean and not overly crowded. You can soak in the hot tubs, relax in the steam rooms and pretend to swim, most people don't. If you are feeling adventures go swim in the ocean!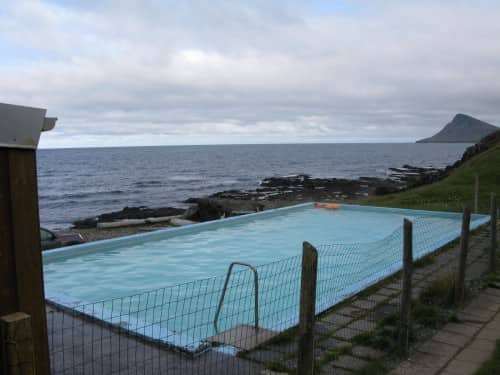 Krossneslaug is one of the most rural pools in Iceland located in the West fjords
Caffeinating
I love good coffee and luckily Reykjavik has a few ambitious baristas. The coffee is expensive but well worth it if you follow my advice.
Kaffitár has a few locations and their downtown shop is located near the very start of the Laugavegur shopping street. While the cups are pricy the freshly roasted beans are fairly cheap compared to major cities so stock up and bring back home.
Reykjavík Roasters (formerly Kaffismiðjan) roast and serve great coffee in their hipstery location. Their coffeeshop is right down the street from the famous Hallgrímskirkja, so an ideal stop to get up before you go up. Don't forget to drop by the Brauð&CO bakery for something sweet.
Tips and tricks
Iceland is very expensive and some of the laws are weird. As long as you come prepared you shouldn't run into many issues :)
Liquor, wine and beer is only sold in state run stores that aren't open very late so buy as much alcohol as you can at the airport as it's duty free. Don't by the candy as it's overpriced.
Take a bus from the airport to the main bus terminal (BSÍ) and a taxi from there, the whole trip shouldn't cost you more than $35 and take less than an hour. You can also splurge on taxi setting you back $120 or so.
Drink water from the tap, it's cleaner and fresher than what you buy bottled at the store and it's free. It's also free at restaurants.
Don't bother bringing cash or finding an ATM. Credit cards are accepted everywhere and you can pretty much buy a stick of gum on credit.
Hope this list has given you some insights before your visit to my wonderful country.
See you in Iceland!